GRAND PALLADIUM COSTA MUJERES
ACCOMMODATION
The hotel has 674 luxury rooms with balcony or terrace, hydro massages and stunning views. Guests can enjoy a wide number of top services like 5 swimming pools, spa, gym, kids club and many premium features such as direct access to the "Swim Up" swimming pools of some suites. A modern amphitheatre with 360 grades scenario visibility, a Beach club with amazing views, a convention centre and impressive sportive installations are only some of the 5-star benefits.
The hotel boasts 674 luxury rooms with balcony or terrace, featuring:
Impressive views over Caribbean Sea
Wonderful hydromassage in the room
VIP personalized treatment
SWIM-UP JUNIOR SUITE: "Relax in the sun and cool down in the Swim-Up pool, accessed directly from this modern suite. Choose what you find most comfortable: either a King-size or two individual full-size beds with memory foam mattresses and a pillow menu, for your best ever night's sleep. In addition, enjoy all the comforts of a Junior Suite, including sofa-bed, hydro-massage bath, 50" flat-screen TV, desk, minibar, toiletries and many other extras to make your stay unique and exclusive. Occupancy 1-4″
LOFT SUITE: "A large space divided into two floors, where you can enjoy the essence of Costa Mujeres from the exclusive hydro-massage bath on your terrace. Choose a pillow from the menu and get your best ever night's sleep in either a King-size bed or two individual full-size beds with memory foam mattresses. And benefit from all the other facilities and extras offered in the Junior Suites: full bathroom with hydro-massage bath, separate WC and shower, second toilet is ideal if you're traveling with children or in a groupand everything required for an unforgettable holiday. Occupancy 1-4″
AMBASSADOR SUITE: "Luxury and comfort go hand-in-hand in these spacious, modern suites A separate lounge and exclusive facilities to this room category, including a Nespresso coffee machine and a premium selection of coffee. Round off the experience with video-games and a console (on request and at an extra charge)."
SWIM-UP AMBASSADOR SUITE: "The hotel's most exclusive suite, offering the last word in luxury. Succumb to the pleasure of having direct access to the Swim-Up pool, and hammocks where you can relax and enjoy the Costa Mujeres sun.
Enjoy the company of your guests in a separate lounge and with exclusive extras such as a Nespresso machine and a premium selection of coffee, in addition to all the comforts offered by the other suites. Occupancy 1-4″
Exclusive Family Selection Room Extras and services
,
applies to all family selection rooms: 24-hour Check-in and check-out, À la carte breakfast, lunch and dinner, Personal assistance during the entire stay, Priority booking in restaurants, Special turn-down service for children, Pillow menu for children and adults, 24-hour room service, Personalized minibar with special beverages, Babysitting service or extended Family-Host (extra cost), Unpacking and packing service,Free laundry service before departure (2 pieces per a person),Sunblock in pool and beach zones,Welcome kit for each child.
Family Selection Junior Suite:
" The ideal suite for families. Customized luxury with a personalized minibar and 24-hour room service. Your little ones will be able to enjoy a special children's turn-down service with exclusive amenities just for them, as well as a welcome kit for each child. Adults will be granted priority booking in all of the restaurants with à la carte breakfast, lunch and dinner, among other services." King-size bed, or 2 full-size beds, Memory foam mattress, Pillow menu for both parents and kids, Sofa-bed, Terrace, Shower, Hydro-massage bath, Double wash-basin, Separate WC, Desk, Bathrobe and Slippers , Mini bar, Radio / alarm / iPod dock, 50" flat-screen TV, Electronic safe, Iron and ironing board,Bathroom amenities, Hair dryer,Wake-up call, WiFi, Magnifying mirror, Full-length mirror, Pool towels. Occupancy 1-4
Family Selection Loft Suite

:
" Views that the whole family will remember. A fantastic suite divided into two levels with a second independent restroom. The highlight of the suite is its spacious terrace with a hydro-massage bath and magnificent views of the Caribbean Sea. Indulge in exclusive benefits, such as unpacking and packing services, turn-down service with special amenities for the little ones, room service, 24-hour check-in and check-out and personal assistance from a Family Host during your entire stay. " A large space divided into two floors, where you can enjoy the essence of Costa Mujeres from the exclusive hydro-massage bath on your terrace." Two floors, King-size bed, or 2 full-size beds, Memory foam mattress, Pillow menu, Sofa-bed, Terrace, Shower, second toilet, Hydro-massage bath on the terrace, Double wash-basin, Separate WC, Desk, Bathrobe and Slippers , Mini bar, Radio / alarm / iPod dock, 50" flat-screen TV, Electronic safe, Iron and ironing board, Bathroom amenities,Hair dryer,Wake-up call, WiFi, Magnifying mirror, Full-length mirror, Pool towels. Occupancy 1-4
Family Selection Ambassador Suite

:
" Luxury and comfort go hand-in-hand in these spacious, modern suites A separate lounge and exclusive facilities to this room category, including a Nespresso coffee machine and a premium selection of coffee." King-size bed, or 2 full-size beds, Memory foam mattress, Pillow menu, Sofa-bed, Terrace, Shower, second toilet, Hydro-massage bath on the terrace, Double wash-basin, Separate WC, Desk, Bathrobe and Slippers , Mini bar, Radio / alarm / iPod dock, 50" flat-screen TV, Electronic safe, Iron and ironing board, Bathroom amenities,Hair dryer,Wake-up call, WiFi, Magnifying mirror, Full-length mirror, Pool towels. Occupancy 1-4
Connecting Suite

:
" Spacious and intimate. Two connected Junior Suites create this giant suite, ideal for families and groups. Both include king-size double bed or two full-size doubles with "memory foam" mattresses, a pillow menu, a terrace, a hydro-massage tub, a sofa bed and a 50 "flat screen TV, among other exclusive amenities of Junior Suites. Enjoy your own space and the closeness of your companions in these two magnificent suites." Occupancy 1-8
For more information please see www.palladiumhotelgroup.com
TRS CORAL
"The hotel boasts 473 luxurious rooms, each with a furnished balcony or terrace, whirlpools and magnificent views. You will enjoy numerous services, an exclusive swimming pool, spa and gym. Direct access to the pools "Swim Up" of some suites, private check-in and check-out, national and international newspapers, a la carte themed restaurants, private Beach Club. Occupancy 1-3"
The rooms at The Royal Suites Coral feature:
 Impressive views over Caribbean Sea
Premium access to 'Swim Up' pools in some suites
VIP personalized treatment
SWIM-UP ROYAL JUNIOR SUITE: "Enjoy the luxury of walking barefoot from your suite to the Swim-Up pool, accessed directly from your guest room. Revitalise yourself in the hydro-massage pool, enjoy state-of-the-art technology with your 50" flat-screen TV and enhance your stay with music via the iPod dock. Savour Costa Mujeres with a wine at the ideal temperature, thanks to your wine climatiser, or have a delicious premium selection coffee with the Nespresso machine included in your suite. Live a unique experience. Occupancy 1-2″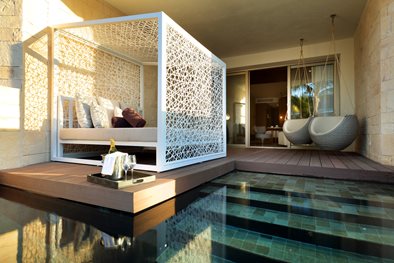 Direct access to the Swim-Up pool
King-size bed, or 2 full-size beds
Memory foam mattress
Pillow menu
Black out curtains
Sofa-bed
Terrace with hammocks
Nespresso coffee machine and a premium selection of coffee
Tea and coffee-making facilities
Mini bar
Wine climatiser
Combined bedroom and living room
Hydro-massage bath
Shower
Double wash-basin
Separate WC
Bathrobe and slippers
Desk
50" flat-screen TV
Electronic safe
Iron and ironing board
Bathroom amenities
Hair dryer
Scales
Wake-up call
WiFi
Radio / alarm / iPod dock
Magnifying mirror
Full-length mirror
Pool towels
Wake-up call
Turn-down service
Butler service
24-hour room service
Telephone*
Air conditioning
Non-smoking room
*Extra charge applies
ROYAL SUITE TERRACE/LOFT SUITE: "Experience a treat for the senses on your suite's amazing terrace, and have a relaxing hydro-massage bath while you contemplate the beauty of Costa Mujeres. This spacious accommodation, with a separate lounge, thoughtfully selected furniture, modern technology and luxury services guarantees you a unique and exclusive stay. Occupancy 1-3″
Hydro-massage bath on the terrace
Terrace with hammocks
King-size bed, or 2 full-size beds
Memory foam mattress
Pillow menu
Black out curtains
Sofa-bed
Nespresso coffee machine and a premium selection of coffee
Tea and coffee-making facilities
Mini bar
Wine climatiser
Bathroom with shower
Hydro-massage bath
Double wash-basin
Separate WC
Bathroom and slippers
Separate living room
Desk
50" flat-screen TV
Electronic safe
Iron and ironing board
Bathroom amenities
Hair dryer
Scales
Wake-up call
WiFi
Radio / alarm / iPod dock
Magnifying mirror
Full-length mirror
Pool towels
Wake-up call
Turn-down service
Butler service
24-hour room service
Telephone*
Air conditioning
Non-smoking room
*Extra charge applies
AMBASSADOR ROYAL SUITE: "Spacious. modern accommodation with a separate lounge and a second toilet for additional privacy during your stay. You will be delighted by the elegant, sophisticated décor, and you will love pampering yourself in the hydro-massage bath, having a delicious premium selection coffee or simply gazing at the view from your exclusive terrace with hammocks. Occupancy 1-2″
King-size bed, or 2 full-size beds
Memory foam mattress
Pillow menu
Black out curtains
Sofa-bed
Terrace with hammocks
Nespresso coffee machine and a premium selection of coffee
Tea and coffee-making facilities
Mini bar
Wine climatiser
Second toilet
Bathroom with shower
Hydro-massage bath
Double wash-basin
Separate WC
Bathrobe and slippers
Separate living room
Desk
50" flat-screen TV
Electronic safe
Iron and ironing board
Bathroom amenities
Hair dryer
Scales
Wake-up call
WiFi
Radio / alarm / iPod dock
Magnifying mirror
Full-length mirror
Pool towels
Wake-up call
Turn-down service
Butler service
24-hour room service
Telephone*
Air conditioning
Non-smoking room
*Extra charge applies
SWIM-UP AMBASSADOR ROYAL SUITE: Enjoy the luxury of direct access to the Swim-Up pool from the hotel's most exclusive suite. A separate lounge and a second toilet to guarantee privacy, modern technology to enhance your stay, including video-games and a console, a 50" flat-screen TV, wine climatiser and exclusive services such as 24-hour room service and Turn-Down Service to ensure a first-class luxury experience. Occupancy 1-2″
King-size bed, or 2 full-size beds
Memory foam mattress
Pillow menu
Black out curtains
Sofa-bed
Terrace with hammocks
Nespresso coffee machine and a premium selection of coffee
Tea and coffee-making facilities
Mini bar
Wine climatiser
Second toilet
Hydro-massage bath
Shower
Double wash-basin
Separate WC
Bathrobe and slippers
Separate living room
Video-games and console
Desk
50" flat-screen TV
Electronic safe
Iron and ironing board
Bathroom amenities
Hair dryer
Scales
Wake-up call
WiFi
Radio / alarm / iPod dock
Magnifying mirror
Full-length mirror
Pool towels
Wake-up call
Turn-down service
24-hour room service
Telephone*
Air conditioning
Non-smoking room
*Extra charge applies
All information is subject to change. For more information please see www.palladiumhotelgroup.com