PUERTO VALLARTA FOOD & BEVERAGE
Delight your taste buds in Grand Palladium Vallarta Resort & Spa thanks to the various culinary options that you will find in the different restaurants located in the complex.
The Resort has two buffet style restaurants where you will be able to enjoy all your meals. You can also allow yourself to be seduced by the charms of the different themed dinners that we offer you throughout the week. The complex also has four A la carte restaurants for dinner, a sports bar with snack service and an endless variety of options that you can enjoy during your stay (themed BBQ on the beach, Paella, Romantic Dinners, etc.).
Of course, don't miss the opportunity to try a variety of cocktails at any of the 7 bars spread around the Resort. Try a delicious Margarita while you take a refreshing dip in one of our pools or try our wide selection of international drinks in our Hemingway Bar with air conditioning. A must try is the famous Mango Vallarta.
The Grand Palladium Puerto Vallarta offes 6 restaurants (4 a la Cartè) and 7 bars feature local and international cuisine. Local and international drinks (with or without alcohol) are offered in the bars. International "Premium" brands of beverages at Hemingway Bar.
Your All Inclusive includes all meals at the resort's restaurants according to their schedules and conditions; night snacks until 6:00 am at the Sports Bar; unrestricted use of "a la carte" restaurants, reservations are not required (subject to availability), unlimited visits, pagers available, dress code in effect; local beverages, selection of international beverages and welcome drink available in some bars, wine list($).
The kids may enjoy a kids cocktail from the Raggs Kids menu.
Grand Palladium Vallarta Resort & Spa also offer gluten-free menus and a special program for people with allergies and intolerances.
The Grand Palladium Hotel Group prides itself in making it possible for everyone to enjoy their vacations. Whether you are a couple, a group or a family the Grand Palladium Riviera Maya has something for everyone. If you or someone you are traveling with has any food allergies or special requirements your needs will be looked after. You can learn more about the Grand Palladium's food allergy program in this short article and by watching this very informative video all about the program and the resorts accessibility. The Palladium Dietary Card program that will cater to guests with the following food allergens:
 Celiac –  

Dark Green

 Nut allergy –

 Red

 Fruit and Vegetable allergy
 Seafood allergy –

Purple

Egg allergy – 

Orange

 Dairy and Lactose allergy – White
Fish allergy – 

Blue

 Sodium Glutamate allergy – 

Pink

Type 2 Diabetic – 

Light Green
Guests are requested to contact the Front Desk or Guest services staff and let them know about their Food Allergies. You will then be given a card that can be carried along to the different restaurant around the resort. By showing the card at the restaurants, the Maître, Executive Chef or Food and Beverage Manager will give you the required assistance.
THE DRESS CODE
Dress Code Guidelines – Riviera Maya
Prepared by Anne & Brenda, Managers,Unofficial Palladium.
We hope you will find this useful when trying to decide what to pack/wear if in doubt. While everyone will have their own thoughts on this, common sense will go a long way.
Enjoy your vacation !
Breakfast
Breakfast is usually eaten at a buffet. Please wear shorts & T shirt, or many wear a bathing suit with a coverup.  Foot wear required.
Lunch
Beach bars: Bathing suits OK. Please wear ftip flops or sandals.
Gran Azul & La Laguna (above main pools): Bathing suits with cover ups OK.Men please wear a T shirt.All need foot wear.
La Hacienda,Tikal, Kabah: DRY bathing suit with coverup. No tank tops for men. Foot wear.
Dinner
Buffets: For men & women: shorts & t shirts OK Footwear. No tank tops. No running shorts or beach wear.
A la Cartes: There is a dress code for men. Not for women which is unfortunate as many young women overlook any code of decorum by wearing very short, torn denim shorts etc. Most of us enjoy dressing up a bit in a sundress or nice capris. Men please do not wear cargo shorts.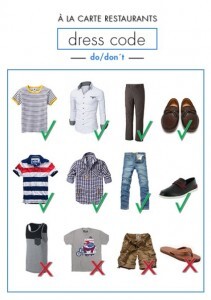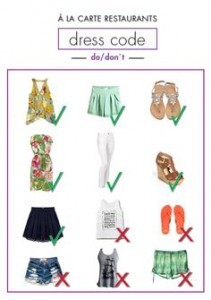 Official Dress Code:
A la Carte's : formal pants, long or short and shirts with sleeves.
Dress code for buffets : casual attire, must not be wet.
Foot wear is required at all dining facilities including the Pool side restaurants.
All  restaurants are non smoking, except the Gran Azul and La Laguna.
BUFFET RESTAURANTS
El Bosque Restaurant: Recently refurbished restaurant, including new décor and floors, where you can enjoy buffet-style international cuisine. Serves breakfast, lunch and dinner. Theme nights: Mexican, Gala, French, Italian, Seafood, Spanish, Asian and International. It also features the American corner called Grand Palladium Burger. Breakfast 7:00 a.m. to 10:30 a.m., Lunch: 12:30 to 15:00, Dinner: 18:30 to 22:00. Dress Code : Casual
Las Terrazas Restaurant: Outdoor buffet-style snack restaurant located in front of the mail pool. Open: 11:00 am – 6:00 pm. At nighttime this restaurant serves as an additional "a la carte" Ribs & More Restaurant. Dress Code : Casual during the day.
THE A LA CARTES
"A la carte" Restaurants. Schedules are subject to seasonal changes; available only for evening meals.
Summer Hours: 6:30 pm to 10:30 pm
Winter Hours: 6:00 pm to 10:00 pm
Viva México Restaurant: Viva Mexico offers "a la carte" dinners with Mexican cuisine specialties. Air conditioning. Features outdoor terrace. Located opposite the adults-only pool. Viva Mexico menu
Portofino Restaurant: Portofino offers "a la carte" dinners with Mediterranean cuisine specialties. Air conditioning. Located opposite main pool. Portofino menu
Bambú Restaurant: Completely refurbished, this restaurant offers "a la carte" dinners with Oriental cuisine specialties. Air conditioning. Located on the second floor of El Bosque Restaurant. Bambu menu, Bambu Hindu
Ribs & More Restaurant: This new restaurant offers "a la carte" dinners with Steak House Grill specialties. Located in an outdoor terrace. Ribs n More menu, Ribs n More burgers
Punta de Mita (Royal): This restaurant is exclusive to guests of The Royal Suites. This lovely open air  restaurant offers some beautiful views for you to enjoy while enjoying breakfast, lunch or diner. Breakfast is served from from 7:00 AM – 10:30 AM. Lunch: 12:30 PM – 3:00 PM and Dinner from 6:00 PM – 10:00 PM. There is a cafe type area near the pool serving snacks fro 11:00 AM – 6:00 PM
THE FUN STUFF
BEACH BBQ
The BBQ is usually scheduled for Saturday evenings and during peak times there may be a second BBQ.( subject to the weather) Always check with  guest services  in the lobby. There are 3 sittings 6:00 Pm, 7:30 Pm and 9:pm. Tables and chairs  are set up on the beach terrace near the main pool. There will be waiter service for wine  the rest of the meal is buffet style.  The menu consists of typical  grilled food –  steak, ribs, chicken, burgers, hot dogs, etc., as well as a variety of vegetables. There's also a salad bar, various breads and fruits for dessert. There is something for everyone. If you attend an earlier sitting you may catch a breathtaking sunset. Dress code is casual.
On Friday's, the entertainment team gives a tasting presentation of different kinds of Tequila, teaching the history and origin of this Mexican spirit, and how to drink it.
Treat yourself to a hot or cold coffee anytime..check out the delicious choices on the Coffee Menu
PAELLA: Spanish specialty, Wednesday and Saturday Open: 12:30 pm to 01:30 pm. No reservation required.
Dinner with Stars at beach area,  reservation required. ($)
Lobster menu at a la Carte Restaurants.($)
Enjoy "coffee flambé"  at one of the many comfortable outdoor locations around the resort.
CHOCOLATE BLISS
Every Saturday starting at 6pm at Hemingway's you can indulge in an entire chocolate evening.
Photos courtesy of Duane & Brenda Gordon
SPORTS BAR
Enjoy our snacks service, an extensive menu of beverages, table games and sporting events broadcast live on our large main screen.
THE ROOM SERVICE
The Grand Palladium Vallarta Resort & Spa offers the highest quality room service included in your stay. Enjoy the intimacy, comfort and exclusivity of our extensive selection, between 1 am and 11 pm. Our room service includes starters, main dishes and desserts for all tastes. Salads, sandwiches and wraps are a great option as starters or for a lighter bite. Quesadillas, hamburgers, pizza and pasta are some of our main dishes. Give in to your sweet tooth with desserts such as fruit, brownies or crème caramel. Palladium Premium provides a final elegant touch with gourmet recommendations, wines and cigars at an additional charge.
ROOM SERVICE from 11 am to 11 pm  EXT. O
The Royal Room Service
Enjoy Pacific, Mexican and international cuisine room service options, each with its own delicious flavors, from the comfort and privacy of your Suite at The Royal Suites Punta de Mita by Palladium, in Riviera Nayarit. Our carefully selected menu, prompt service and attentive staff will provide you with a truly royal room service experience.
Royal Breakfast
07:00 – 11:00
To complement an amazing sunrise, choose a breakfast fit for royalty from the comfort of your Suite. Our variety of breakfast sets includes toasts, pancakes, croissants, omelets, fresh fruits and vitamin-filled juices.
All Day Dining
11:00 – 23:00
Enjoy a delicious range of in-room meals by day or night. Discover a fusion of Mexican flavors with our delicious Tacos & Burritos complemented with your choice of delicious filling, perfect for a late night dinner.
The Royal Specialties
17:30 – 22:30
Our creative and delicate cuisine inspired from all over the world will surprise the most demanding palates. Choose from local or Asian specialties to stunningly delightful seafood dishes, including lobster. The finest wines and cocktails will perfectly match your dinner choice.
Overnight
23:00 – 07:00
The night service offers an excellent selection of international favorites and local specialties. Choose from a wide array of pizzas, savory snacks and finger foods and freshly prepared sandwiches or savor refreshing drinks and cocktails.
*The approximate maximum time for delivery 40 minutes.
THE BARS
La Placita, lobby bar Open: 10:00am –01:00am Live music every night.
Secret Bar, outdoor bar (adults-only pool) Open: 10:00 am – 9:00 pm
Olas Bar, main pool bar Open: 10:00 am – 7:00 pm
Hemingway bar Open: 6:00 pm – 1:00 am "Premium" beverages and air conditioning. Adults only.
Sunset Boulevard, Disco & Bar Open: 11:00pm –02:00am
Sports bar Open: 09:00 am – 06:00 am Snacks Open: 06:00 pm – 06:00 am
Enjoy our snacks service, an extensive menu of beverages, table games and sporting events broadcast live on our large main screen.  Sports Bar menu
Beach Bar:  Located at the beach, cocktail menu Open: 11:00am –06:00pm
THE MENUS
If you have any questions about your upcoming trip please visit our FORUM. We are more than happy to answer any questions and help with your vacation planning.