COSTA MUJERES
DESTINATION GUIDE   AIRPORT INFORMATION
The heart of Grand Palladium Costa Mujeres Resort & Spa is "The Village", its exclusive area with a wide range of gastronomy and leisure outstanding luxury services for families, friends and couples. Kids exclusive zone is also located inside an island-shaped special area.
All resort's areas are connected by an innovative system of artificial canals, designed in order to facilitate guest's transport by boat. Floating platforms with sofa chairs along the canals are the latest news to experience.
Grand Palladium Costa Mujeres Resort & Spa & TRS Yucatan provides you with a wide range of sport activities monitored by a specialized professional team. Many different fitness activities and facilities for children and adults are offered. The Grand Palladium Costa Mujeres Resort & Spa Complex has entertainment professionals – animation POP team – which always give you  their best to guarantee a full program of activities for the guests. Live music, night and day time shows, water activities and team sports are the best ways to experience an unparalleled vacation and ensure guests have an unforgettable stay.
ON SITE ACTIVITIES
Grand Palladium Costa Mujeres Resort & Spa provides you with a wide range of sport activities monitored by a specialized professional team.  Many different fitness activities and facilities for children and adults are offered. The entertainment professionals – animation POP team – will always give the best to guarantee a full program of activities for the guests. Live music, night and day time shows, water activities and team sports are the best ways to experience an unparalleled vacation and ensure guests have an unforgettable stay schedule
TRS CORAL
MONDAY:
TUESDAY: Rock Forever Show featuring Radiozero
WEDNESDAY: Caribbean Show
THURSDAY: Mexican Show
FRIDAY: Pirate Show
SATURDAY: American Show
SUNDAY: Jersey Boys
SPECIAL PARTIES & EVENTS
MONDAY'S 
TUESDAY'S after the show
WEDNESDAY'S after the show
FRIDAY'S at 1 pm @ the Grand Palladium Main Pool
LIVE MUSIC
Princess for the kids at Family Selection Es Niu Pool at 12:45 pm Mon/Wed/Fri
Divas all over the place on Mondays 1pm
Jersey Boys all over the place on Thursdays 1pm
Live Bands 1pm Sun/Tue/Thu/Fri at GP main pool.
Live Bands 11pm everyday at Village
Live music at TRS Pool 1pm everyday
Helios Restaurant every Thursday 7pm
Piano man on lobbies 6pm
**This may change eventually due weather or other**

Monday 11:00 PM (in front of chic cabaret)

Wednesday 11:00 PM (in front of chic cabaret)

Friday 1:00 pm ( BBQ PARTY ) ( GP POOL)
THE POOLS
Pool Gp Costa Mujeres Main Pool is a family with an area of  2068.47 m2 and is 150 cm deep. The pool is open from  08:00am.
Gp Costa Mujeres Pool 2 is a family  pool as well, with an are of 382,62m2 and a depth of 150 cm.. The pool hours are 08:00am-00:00pm
 Splash pool is for the kids. It has an area of 348,2 m2 and is 40 cm deep. Open from 08:00am-08:00pm.
Family Selection Pool is a family pool with an area of 458,66m2 and a depth of 150 cm. The VIP pool is open from 08:00am-08:00pm For FS guests only.
NOTE :All the pools listed above are located within the  Grand Palladium Costa Mujeres.
Main Pool Royal Suites is  an adults only pool with an area of 1619,09 m2 and a depth of 150 cm. The pool is open from 08:00am-00:00pm and located at T R S Coral Hotel. For TRS, some travel club members and VIP guests.
ACTIVITIES & SPORTS
The Grand Palladium Costa Mujeres offers a plethora of scheduled daily activities that are sure to keep the whole family busy during your stay.
Some of these include :
Activites
Aerobics
Darts
Various Games
Yoga
Pilates
Zumba
Crafts
Children's Entertainment
Nightly shows
Daily animation
Billiards
Live Music

Sports
Ping-pong
Basketball
Football
Tennis
Air rifle shooting
Archery
Catamaran
Kayak
Pedal boats
Snorkeling
Windsurfing
Deep-sea fishing*
Diving*
Shuffleboard
Waterpolo
Aqua-Basket
Aqua-Volley
Aqua-Gym
Facilities
Soccer field
Beach volleyball court
Basketball court
Archery field
Paddle court
Tennis courts
Multi-purpose courts
Minigolf
Area Concerts
Dive Center
RAFA NADAL TENNIS CENTRE
"Palladium Hotel Group is proud to announce the incorporation of a Rafa Nadal Tennis Centre on our Costa Mujeres resort. Learn from the champions with the instructors of the Rafa Nadal Academy by Movistar and experience an exclusive training program encompassing Rafa Nadal´s personal values, focusing on technical, strategical and physical preparation, as well as mental training. Enjoy professional tennis instruction through a variety of programs, available for guest of all ages and levels of both TRS Coral Hotel and Grand Palladium Costa Mujeres Resort & Spa. Adult participants can select between private classes, a weekly tennis camp or a 3-day break tennis camp. For children, a weekly tennis program is offered from September until June, as well as a summer camp during the summer season. All players participating in group programs are matched with those of a similar age and level, creating an enjoyable experience while maximizing improvement.
Note if you are a guest at the Grand Palladium Costa Mujeres/TRS Coral one hour of tennis court use is included per day per room. If you wish to play longer than an hour the cost is $550 pesos per hour.
Benefit from the center´s:
• 8 illuminated clay tennis courts
• 1 soccer field for teams of 7
• 1 paddle tennis court
• Bar-cafeteria with TVs to watch tennis among other sports
• Gym for warm-ups, stretching and basic workouts
• Exclusive exposition of Rafa Nadal objects and garments
• Merchandising store with premium products and stringing service available
THE KIDS
Baby Club is for the youngest travelers, ages 1 -3 years will enjoy age appropriate scheduled activities. The baby club is open fro 9 am until 8 pm, offering the big kids(parents) some time for themselves.
Kids Club for children ages 4 – 12 is open from 9 am until 11 pm. Your children will enjoy numerous activities and crafts.
Teen Club for the older kids is opens 11 am. Your teens will love playing video games, meeting others their age and much more in this state of the art teens club.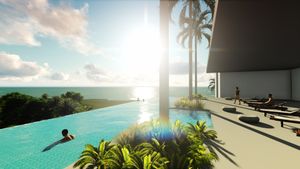 Step into a world of peace and relaxation. Zentropia Palladium Wellness & Spa offers you the perfect balance between body, mind and soul. A luxury spa and wellness centre where all kind of treatments are on offer. With more than 4740 m2, distributed over two floors, its space is devoted to relax and wellbeing. Zentropia Palladium Wellness & Spa features rooms for different aesthetic treatments for the face and body, massages, a relaxation zone, waterfalls, a foot bath with stones, hot and cold hydromassage baths, a sensation shower, dry and humid saunas and an ice room.
Facilities and services Spa:
Beauty
Facial and body treatments
Massages
Water slides
Hot and cold eater whirlpools
Relaxation area
Cold bath
Hot Jacuzzi
Ice cabin
Steam rooms
Dry and moist sauna
Foot shower with stones
Cold Jacuzzi
Round Jacuzzi with gooseneck
Sensation Shower
For full details and information please visit www.zentropiaspa.com
OFF SITE ACTIVITIES
COSTA MAYA
Costa Maya is located on the south of the Quintana Roo state, and goes from Punta Herrero to Xcalak. In this area are located around 30 ecological hotels where you can enjoy the beautiful beaches, the ruins near this zone, and many acuatic activities as snorkel, diving and fishing.
CANCUN
"Cancún, a Mexican city on the Yucatán Peninsula bordering the Caribbean Sea, is known for its beaches, numerous resorts and nightlife. It's composed of 2 distinct areas: the more traditional downtown area, El Centro, and Zona Hotelera, a long, beachfront strip of high-rise hotels, nightclubs, shops and restaurants. Cancun is also a famed destination for students during universities' spring break period.
The main commercial street of the Zona Hotelera, Boulevard Kukulcán, is also the site of El Rey, ancient Mayan ruins, and the sleek Museo Maya de Cancún, housing Mayan artifacts. Besides swimming, popular water activities include snorkeling and diving along the Mesoamerican Reef, or in one of the region's many sinkholes, known as cenotes. Sailing and jet-skiing are common in the calm Nichupté Lagoon. Making frequent voyages offshore are deep-sea fishing charters and ferries to nearby Isla Mujeres island, home of Garrafón Natural Reef Park. South of the city are Xcaret, a Mayan-themed eco park, and the Xel-Há water park." Cancun Travel Guide
Some popular tours and sightseeing highlights include :
To join his swashbuckling crew upon the Jolly Roger? Are you ready to sail the Caribbean and bear witness to rivaled pirates battling for their dignity? The clashing of swords, the explosion of canons and a constant flow of drinks and merriment will accompany you in this spectacular show.
Explore the incredible galleon that was modeled on Columbus' Santa Maria (or Marigalante as known by her sailors) that joined him on his first voyage to the Americas. Enjoy the fun and music that await as pirates swing from ropes and act out their dark and bitter feuds. Avoid walking the plank by taking advantage of the free bar included in your ticket; little pirates can save themselves from washing the deck with a toothbrush by eating all their dessert!
Museo Maya de Cancún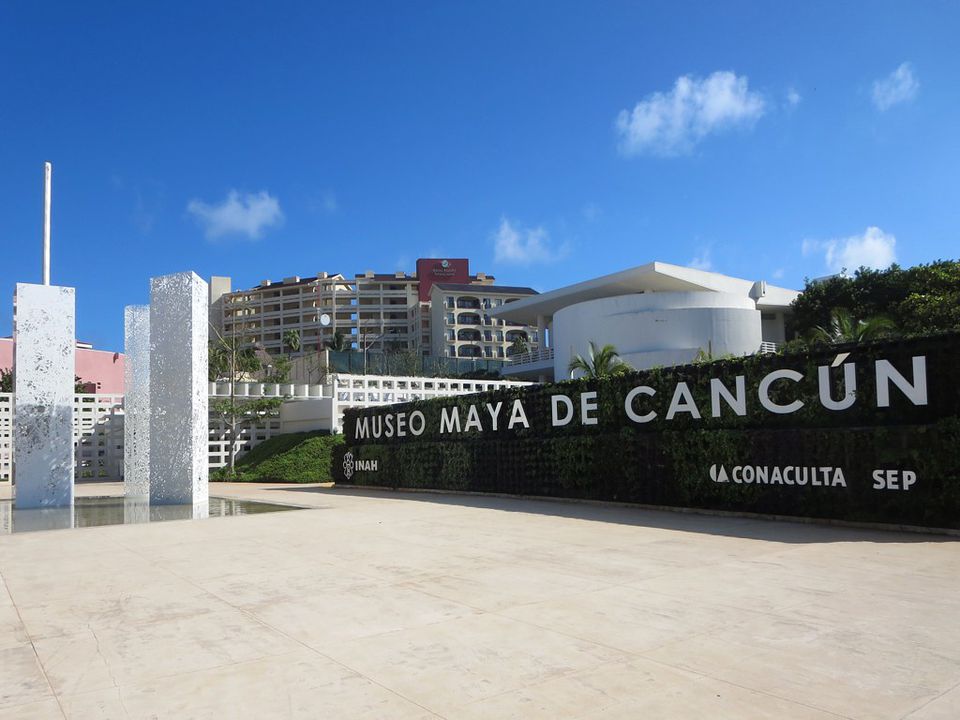 The museum is housed in a modern white building with large windows which was designed by Mexican architect Alberto García Lascurain. Three white columns made of delicate leafy patterns representing the vegetation of the area sit in a fountain at the entrance to the museum. These were designed by Jan Hendrix, a Dutch-born artist who has lived and worked in Mexico for over thirty years. On the ground floor of the museum, you'll find the ticket booth and bag check area; you'll be asked to leave any large bags as they're not permitted inside the museum. There is a cafeteria on this level also, and gardens with paths leading to the archaeological site.
The exhibition halls are located on the second floor, accessed via elevator (the museum is wheelchair accessible). They are elevated to 30 feet above sea level to protect the collection in case of flooding. There are three exhibition halls, two of which are permanent and one which is used for temporary exhibits.
The museum's complete collection contains over 3500 pieces, but only about a tenth of the collection is currently on display (some 320 pieces).
The first hall is dedicated to the archaeology of the State of Quintana Roo, and presented in roughly chronological order. One of the most notable aspects of the collection is found here, the skeletal remains of La Mujer de las Palmas ("The Woman of the Palms") and a replica of the context in which they were discovered.
She is believed to have lived in the area some 10,000 to 12,000 years ago and her remains were found in the Las Palmas cenote near Tulum in 2002.
The second hall is dedicated to Mayan culture as a whole and includes pieces found in other areas of Mexico: besides Quintana Roo, the Maya World encompassed the present-day Mexican states of Chiapas, Tabasco, Campeche and Yucatan, and stretched into Guatemala, Belize, El Salvador and part of Honduras. A replica of Monument 6 from Tortuguero site in Tabasco is particularly interesting, as this stela was used as evidence for some of the theories of what would happen at the end of the Maya long count calendar in 2012.
The third hall houses temporary exhibits and rotates often.
San Miguelito Archaeological Site:
After visiting the museum, go back down to the ground level and follow the path that leads to the San Miguelito archaeological site. This is considered a small site, but it's certainly a pleasant surprise to find this green oasis of 1000 square meters of jungle with meandering paths leading to a variety of ancient structures in the middle of Cancun's hotel zone. The Maya inhabited the site over 800 years ago until the arrival of the Spanish conquistadors (roughly 1250 to 1550 A.C.).
The site contains some 40 structures, of which five are open to the public, the largest being a pyramid of 26 feet in height. San Miguelito's ideal location, on the coast of the Caribbean Sea and near the Nichupté Lagoon, facilitated its residents' involvement in the ancient Mayan system of trade, and allowed them to make use of routes around the lagoons, reefs and mangroves.
Location, Contact Information and Admission
The Museo Maya de Cancun is located at Km 16.5 in the Hotel Zone, adjacent to the Omni Cancun, The Royal Mayan and the Grand Oasis Cancun resorts. It is easily accessible by taxi or public bus from anywhere in the hotel zone.
Address: Hotelera Cancun Quintana Roo Blvd. Kukulcan Km 16. 5 | Esq. Gucumatz, Cancun 77500, Mexico
Facebook:Museo Maya de Cancun
Entrance to the museum is 70 pesos (dollars are not accepted), and includes admission to the San Miguelito archaeological site.
Check the website for the most recently updated hours.
ISLA MUJERES
"Isla Mujeres is a Mexican island in the Caribbean Sea, 13 kilometers off the coast from Cancún. It's a vacation destination known for beaches such as northern Playa Norte, resort hotels and for snorkeling and scuba diving on the surrounding coral reefs. At Punta Sur, the southern tip, there's a lighthouse, the remains of a Mayan temple and a sanctuary for sea turtles." Isla Mujeres Travel Guide
If you are planning to visit Isla Mujeres, Cancun or Riviera Maya don't hesitate to contact Mariel at Isla Mujeres Trips to learn about the tours and activities that best fit your interests and needs whether you're coming alone with family, as a couple or friends. You'll get the best service in a safe and fun tour! If you are near come see us to get the most helpful advise about places to visit, the best beach, restaurants, nightlife, medical and/or other special services and any useful information that you may need.
For even more selection of tours from the Cancun area to Isla Mujeres see: Cancun Tours