ACCOMMODATION   FOOD & BEVERAGE TIPS FAQ ACTIVITIES PALLADIUM KIDS WEATHER
Riviera Maya
We invite you to share your "must see or do favorites" on the FORUM
For quick access to whats going on around the resort make sure to download the Palladium Hotels and Resorts App.
You can find bulletin boards around the resort(s), which will have that days activities and more posted. They can be found near the entrance to each buffet as well as other locations. You can also check the App  APP
GETTING AROUND
The resort has a train & carts that take you from lobby to lobby  the Zentropia Spa and the Sports Center . They come around every few minutes for your convenience. You can see the location of the trains on the signs located above the bellman station(s). Easiest thing to do is walk to a lobby for the train or cart.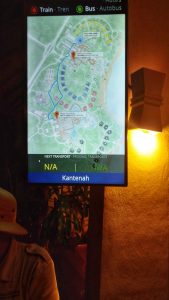 ONSITE ACTIVITIES
POOLS
"Afternoons by the pool are full of rhythm and with good vibes"
Colonial & Kantenah Main Pool: Large  lake-style swimming pool with 4 built-in Jacuzzis and swim-up bar Hours: 10:00am to 6:00pm, , with a separate pool for children. Open from 10:00am to 6:00pm (winter) and 10:00am to 8:00pm (summer) 1.50m or 5'3″ deep
Activity Center at the Colonial pool – Adults  lessons 4:00p.m.
Monday-Cooking lessons

Tuesday- Healthy juice lessons

Wednesday- Bar tending

Thursday-Mexican torilla lessons

Friday-Ceviche lessons

Saturday – Tequilla tasting
Children's Water Park: Located in Grand Palladium Colonial Resort & Spa. Open from 9:00 am to 6:00 pm.
"El Secreto" Pool: Adults-only pool located in Grand Palladium Colonial with built-in Jacuzzi and open until midnight with bar service included. 10:00am to 12:00am.
"El Rinconcito" Pool. Located in Grand Palladium Kantenah , with built-in Jacuzzi and bar service from 10:00 to 6:00 pm.
 White Sand & Riviera Resort  Main Pool: Large lake-style swimming pool with 4 built-in Jacuzzis and swim-up bar Hours: 10:00am to 6:00pm, 1.50 m deep, with a separate pool for children. Open from 10:00am to 6:00pm (winter) and 10:00am to 8:00pm (summer)
"La Isla" Pool: Adults-only pool located in Grand Palladium White Sands, with built-in Jacuzzi and open until midnight, bar service from 10:00am to 7:00pm.
"Spa" Pool: Adults-only pool located within the Spa, 1.60 m deep. Open from 9:00am to 8:00pm.
Sports Activities : Aerobics, water gymnastics, table tennis, basketball, volleyball, soccer, tennis, petanque, water polo, darts, archery, rifle shooting, mini golf, participation games, paddle tennis, shuffleboard and badminton.
Mini Golf – 4pm on Monday's at the sports center
Water Sports Activities : Catamaran, Kayak, snorkeling, pedal boats, Wind-Surfing. No motorized activities included. WITH EXTRA CHARGE: Deep sea fishing, excursions and scuba diving courses.
FOAM PARTY
Thursday's at 3:30 pm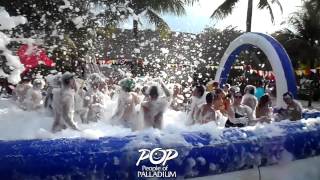 Entertainment/Daily Activities : on the beach and by the main pools and various night shows in the Grand Theater located at the Grand Palladium Colonial Resort & Spa and Grand Palladium Riviera Grand Resort and Spa. Shows for children in the theaters.
Check your activity schedule from your welcome package, bulletin boards or the Palladium App for changes.
MOVIE NIGHT/Camping
Friday's at 6pm
LIVE SHOWS 
 Shows Presented by the  People of Palladium : You can find the show schedule on a bulletin board near the theaters. There is something for all ages to enjoy. Scroll through the videos below and view the ones you choose or enjoy all of them. Shows are subject to change. Please look for the most up to date show information located on bulletin boards located at various places around the resort.
2023 shows
PARTIES
NOTE : The disco has been closed and those activities will take place in the lobbies, please check bulletin boards for updates.  The People of Palladium parties (Back to the 80s, Peace & Love, etc.) take place at the Colonial plaza, followed by live music at the Colonial Lobby (right outside the Sports Bar, not inside) until 1:00 am.
Monday – International show
Tuesday – Rock show /Back to the 80s party, until 11:30 and live band  at Colonial lobby followed by a DJ.  – Colonial Plaza at 10:15 pm
Wednesday- Latine, until 11:30 and karoke. –  Colonial Plaza at 10:15 pm
Thursday – Peace & Love Party –  Colonial Plaza at 10:15 pm, DJ with live music
Friday- Fire show and the White party at Las Olas beach bar at 9 pm.
Saturday – Mexican Fiests
Sunday – Jersey Boys
Don't forget to enjoy some live music while enjoying your vacation.
Live Music every night Check App for schedule  App
Music Schedule ( subject to change)
You may enjoy your favorite songs by Conclasse three days a week:
Tuesday's at 10:30 after the Peace and Love Party.
Saturday's at 10 pm
Sunday's at 12 pm at the Paella Party on Colonial Beach.
You will also enjoy a variety of live entertainment around the resort throughout the day, like the Divas, Mad Horse and more.
SPORTS BAR  
Open 24/7
Enjoy watching your favorite team and enjoy a tasty snack from the extensive menu. You will not be permitted in if you are wearing wet swimwear so please dress accordingly.
Available Channels
501 SKY Sports
502 SKY Sports 2
511 ESPN Int.
515 ESPN 2
520 FOX Sports
525 FOX Sports Argentina
526 NFL
527 SPEED
528 GOLF
530 LFP Sport
531 La Liga
SMILE SERVICES
No longer available. TRS guests may arrange special events with your butler. GP guests may arrange special events with Guest Services.
FUN WITH FOOD
Paella Party – Sunday's at 12 pm Colonial Beach
COCKTAIL TASTING
Currently not available
TRS Wine tasting every Sunday & Tuesday at 7 pm
Gin & Tonic Tasting held every Tuesday at Hemingway's located off of the Kantenah lobby
Photo's by Pedro Zalava Gamboa
Kokus : Enjoy this tasty treat, made from coconut milk. This now can be ordered from some bars with a charge.
Rock'n Country & Burgers – Las Olas Beach Bar- Thursday's from 12 pm to 1:30 pm
If you love lively country music, this is a must do.  Mad Horse rock's !
Chocolate Bliss – Hemingways Bar – Thursdays from 6 pm to midnight
BEACH BBQ (Currently not scheduled during Covid)
reservation is required, book at the guest services desk the morning prior to the day of the scheduled BBQ. The  beach BBQ is subject to the weather. There are two seatings, one at 7:00pm  and another at 8:30pm. The days on which the BBQ is held may change due to occupancy and or wedding parties. To avoid any confusion be sure to verify when you check in or with guest services located in the lobby.  There is wait service for drinks and the dress code is causal. Food is grilled outside and served buffet style. The menu consists mostly of grilled food – ribs, chicken, steak, etc.; along with  side dish options, salad bar, various breads/rolls, and fruits for dessert.  It's a fun and festive atmosphere with a live band playing for you as you dine by candlelight under the stars.
KITCHEN TOUR
Wednesday at 12 pm.  Shoes and Shirt required. Check with guest services.
PONTOON BOAT
This is a lovely way to see the resort from a different vantage point. Sometimes if pre-arranged with guest services it makes the perfect setting for a special occasion. Imagine a champagne toast on a birthday or anniversary.
Pontoon Boat tour : Monday, Tuesday, Thursday 12:30pm to 8:00 pm, Wednesday & Saturday, 8:00am to 8:00pm
POTTERY PAINTING
There is a table located beside Las Olas beach bar where you can create your own souvenir or purchase something if your prefer. Fun for all ages.
CROCODILE SHOW
Near the Gran Azul and Kantenah buffet.
TURTLE CAMP
Sea turtles, one of the world's current endangered species, have found a safe haven in Mexico. In order to make our contribution to saving the environment, a few years ago the Grand Palladium Resorts in Riviera Maya developed a program for the conservation and protection of this species which now includes a brand new Turtle Camp.
ORCHID GARDENS
There are 2 orchid gardens on the property, 1 near the Chapel on the Colonial section and the other on the Kantenah section.
Read More
KIDS CLUB
Baby Club (1-3 years old)
Mini-Club "El Ranchito" (4-12 years old)
Black & White Junior Club (13-19 years old)
For detailed information, pictures and videos please check out our dedicated Palladium Kids page. That's right an entire page for the younger travelers.
ZENTROPIA SPA
Wet Zones at the Zentropia  Spa (18 years and older)
 NOTE : As of January 1 2019 the rate of $50 USD per person per day for access to the hydrotherapy facilities wet areas of Zentropia Spa and Wellness will be incurred. TRS guests – $35 per day.
 Clients that purchase a spa treatment will not have to pay the $50 access fee on that day of treatment. The use of the gym and exercise rooms will remain free of charge for all registered hotel guests.
At our Grand Palladium Resort & Spa hotel in Riviera Maya, we offer relaxing body treatments including a chromotherapy tub and Vichy shower in the following facilities:
16 individual treatment rooms with air conditioning
4 Eco-palm shelters in the Spa
4 Eco-palm shelters scattered throughout the resort
2 meditation rooms with drinks and everything required in a room for your personal relaxation and meditation needs.
1 Water Garden
2 saunas (dry and wet)
2 steam rooms
Fitness centre with air conditioning
1 air conditioned, small café area for guests with a pass and clients who reserve a service in our Riviera Maya Resort & Spa. The café offers a menu of sandwiches for each day of the week.
At the Spa, you can enjoy massages, facials and body treatments given by a team of highly qualified, professional therapists. Each client will receive a robe, sandals and a locker before starting treatment and massages.
Entry to the water zones is $35 for guests at TRS by Palladium and members of the Palladium Travel Club. There will also be promotions and special services.
For your information, that anyone receiving a treatment at Zentropía Palladium Spa & Wellness has entry to the water zone included for the day.
WATER GARDEN:
This is an exclusive area with an avant-garde design in hydrotherapy. There are 2 indoor and outdoor jacuzzis with hot and cold water, showers in the open air decorated in Mayan style with the heads of jaguars, water cascades, "eco-meditation" cold bath, foot wash with stones that acts like reflexology, relaxation zone with swimming-pool, etc.
ECO-PALM SHELTERS:
Scattered throughout the resort, these Eco-palm shelters are built on wood and are very pleasant if you prefer to be in the open air. They can be found near the pool and white sand areas and in the Spa. Enjoy a relaxing massage among the fabulous sounds of nature in the Mayan jungle, or gaze out on the beautiful Caribbean Sea. The most amazing experience in the area!
The Eco-palm shelter area cannot be used in adverse weather conditions.
FITNESS CENTRE:

Situated within the Spa, it contains modern apparatus for exercising while looking out on the the beautiful gardens and relaxing nature of the Caribbean. The equipment includes treadmills, elliptical trainers, static bikes and weights.
The gym has changing rooms and showers, air conditioning, background music and plasma TV screens. An instructor is available from 7 – 11am and 5 – 9pm. No reservation is required and it is free of charge.
Open 6 am to 9 pm (18 and older)

11 am – 2 pm teens may use the gym when accompanied by an adult.

No classes on Sunday

Gym opens at 7 am on Sunday only, 6 am all other days
Next to the fitness centre, you will find a room with an animation team. You can also attend a variety of sessions for aerobics, yoga, pilates and dance classes.
You won't want to miss the Zumba classes, Monday to Friday from 5 – 6pm.

Yoga – Monday,Wednesday & Friday 10am

Pilates is offered Mom, Wed, Fri and Sat

 Running Club – 7:30am -8:30 am, Monday to Saturday with qualified instructors.
Jogging Route Map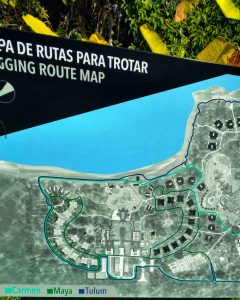 PRODUCTS USED:
Zentropía selects first-class products for its treatments, from Pevonia, Alfa Park, Kerastase, Opi and Elemet. It has also developed its own line of products under the Zentropía brand.
 (note)  Zentropia products are also being used as in room amenities throughout the resort.
CANCELLATION POLICY:
Please give at least 4 hours' notice if you wish to cancel. Late arrivals may only enjoy treatment up to the finishing time of the reservation, so that the next session can begin immediately. For a no-show, your room will be charged with 50% of the cost of the service.
PAYMENT METHODS:
All treatments can be charged to your room for greater convenience, or you can choose to pay by credit card or in cash. Tips may be given at your discretion for outstanding service.
OFFERS:
Clients can reserve services prior to arrival at the resort with a 15% discount on the total purchase price. Reservations are paid 50% in advance, and the remaining 50% paid directly to the spa.
Prices are extremely reasonable and range from $10 US to $170 US.
RECOMMENDATIONS:
The Spa's trained staff are always available to advise you on the best treatment for your needs. Your safety is of the utmost importance to us. Please notify the Spa manager of any special medical condition, such as: allergies, high blood pressure, diabetes, pregnancy, etc. You should also be well hydrated prior to treatment. The Spa provides free drinks, such as water and tea. We recommend that you arrive at least one hour prior to treatment in order to make the most of our modern water circuit (sauna, Turkish bath, jacuzzi, foot wash and private pool). You must shower before entering the water zone. The Spa will provide you with a towel and sandals for your convenience and personal use. You may wear casual clothes and don't forget to bring your swimwear. Please do not bring valuables or jewellery. Mobile phones and devices must be switched off so that all guests can fully enjoy their Spa experience.
For more information on services offered please refer to the Zentropia Spa Website.
CHURCH
The Grand Palladium Riviera Maya has a beautiful Catholic Church on site. "Nuestra Senora de las Nieves", located near the Colonial lobby.
Mass is held every  Sunday at 11 AM
HOLIDAY'S & CELEBRATIONS
If you are lucky enough to be on vacation over the holiday's be sure to join in on the fun.
On CHristmas Santa always arrives at noon. We never know how he'll arrive!
DIVE CENTER
Located right on the beach inside the Grand Palladium Hotel Complex.
We invite you to share any of your favorite activities and more on the FORUM. 
 Extras
TAXI RATE CHART(2023)
Photo courtesy of A Finozza 
Off Site Activities Riviera Maya
Some of The Most Popular Sightseeing Tours in The Area
Chichén – Itza: Add some interesting cultural, adventure and gastronomic experiences to your vacations. Chichén Itzá, that mystical city with famous Mayan ruins is regarded as one of the "New Grand Palladium Colonial Resort & Spa 7 Wonders of the World." You will be amazed by the beautiful buildings you'll discover in this place of worship, such as the Temple of a Thousand Columns, the Ball Court, or the most emblematic ones: the Temple of Kukulkan and the Observatory, which is a clear representation of the advanced knowledge of astronomy and mathematics this ancient Mayan civilization possessed.
Cozumel: Cozumel Island is known worldwide as one of the most beautiful spots for snorkeling and scuba diving. It also boasts the second largest coral reef in the world. Taking a 60 meters dive with excellent visibility is certainly a privilege you should not miss if you visit the Mexican Caribbean.
Rio Secreto: Live a fantastic and mystical journey through one of the most amazing natural wonders of the Mayan Riviera. The adventure begins right at the registration module, where you will be driven through the jungle to this natural reserve. You will then be greeted by a guide who will provide some interesting facts about this amazing mystical experience. You will get your complete outfit: wetsuit, helmet with a special lamp and special shoes. You will then be taken to a maze of endless corridors formed by ancient geological processes. You'll walk and swim along a 600 meter easy-to-follow route while admiring thousands of stalactites and stalagmites in a protected natural reserve
 Xcaret: "Nature's sacred paradise" is the world's most famous eco-archeological park. Here you'll find archaeological ruins, dolphin show, horses, tropical birds, butterflies, a bat cave, beaches…You can also snorkel in the famous crystal-clear caves and its underground river. Visit the apiary, mushroom garden or turtle farm, take a trip to the rainforest or the coral reef aquarium, or simply enjoy the horsemen show. The Xcaret Mexico Spectacular Show is the number one show at the park. It brings 300 artists together on stage with a selection of the best music, dances and songs from Mexican folklore. And when the sun comes down, the sounds of pre-Hispanic drums, warriors linedup and Mayan priests guarding the roads indicate that the show is about to begin. An incredible and colorful display that will take you back to the most important eras in Mexico's history, including the recreation of the amazing ball game.
Xel – Ha: It's the perfect place for relaxing and doing some snorkeling. This natural aquarium is famous for its hundreds of brightly colored tropical fish and its spectacular rock formations. Here you can explore creeks, lagoons and caves fed by subterranean rivers. Xel-Ha is the most spectacular water theme park of the Mayan Riviera featuring the most amazing natural aquarium in the region. You can have lots of fun with family or friends thanks to the great selection of water activities, and natural and ecological attractions. Or let the crystal-clear currents of take you slowly down the magical lazy river on floating inner tubes.
Xplor: It is a natural ecological park adventure. In this park you can experience the thrill of flying in 14 incredible zip lines on the tops of the trees, driving an amphibious vehicle along the road through the jungle and through caves and grottos, swim in an underground river surrounded by stalactites and stalagmites, paddle with your hands on a raft while you look amazing rock formations created by nature over millions of years.