ACCOMMODATION   FOOD & BEVERAGE TIPS FAQ ACTIVITIES PALLADIUM KIDS WEATHER
The Riviera Maya, which begins just south of Cancun, enjoys a warm tropical climate year-round. The average Riviera Maya, Mexico temperature is around 27 degrees Celsius (80 degrees Fahrenheit), with seasonal fluctuations of 4 to 6 degrees that can reach 35°C (95 degrees Fahrenheit) in  the summer months. Humidity levels are also often high, around 80¬% to 90%. The rainy season runs from May to November, with September and October being the wettest months. During the spring and summer, the ocean is calmer and warmer, making it much more enjoyable for water sports. Rains are heavy but short and fall mostly in the afternoons. In autumn, rains are heavier and more persistent due to tropical storms. The dry season runs from November to April when the season is dominated by northerly winds called El Norte, which usually occur in January and February. Winter evenings can get a bit cool but the sun is still very strong and hot during the day.
While Riviera Maya is a great place to visit any time of year, the months between December and April (the dry season) are the most popular, and therefore expensive, times to visit. July and September are the wettest and quietest months, making them the best time to go if you want to "bag a cheap holiday". In the wet season, you'll still get plenty of sunshine (anywhere between ten and seven hours each day) and the resorts won't be as crowded as they are during the peak season.
Weather averages for Riviera Maya
Average High
Average High/Low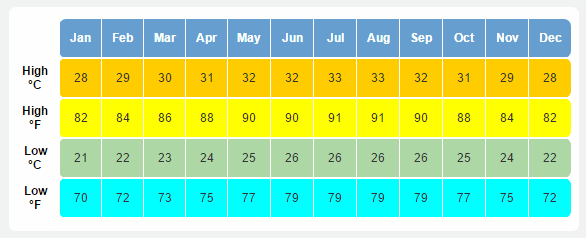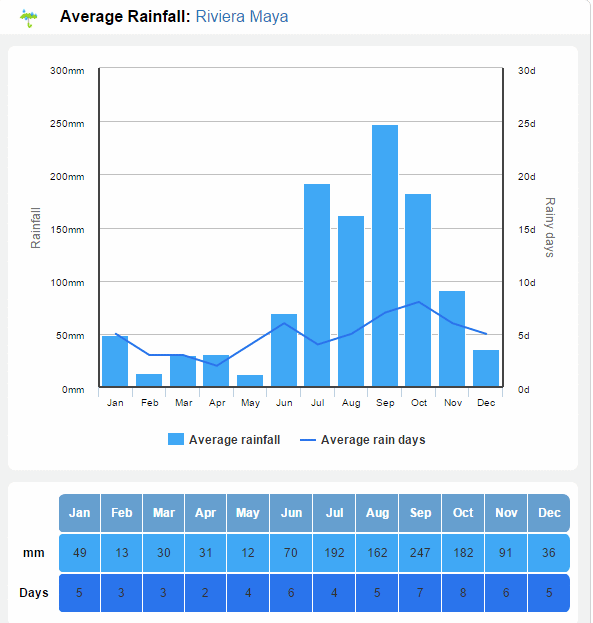 Average Sea Temp.
ACCOMMODATION   FOOD & BEVERAGE TIPS FAQ ACTIVITIES PALLADIUM KIDS WEATHER
BACK