ACCOMMODATION   FOOD & BEVERAGE FAQ ACTIVITIES PALLADIUM KIDS   WEATHER
GRAND PALLADIUM JAMAICA RESORTS
Quiet and relaxing, Montego Bay offers year-round warm temperatures. You can swim or snorkel in clear waters in the Cave of the Doctor (Doctor's Cave) and Fletcher Beach, dive into the cave ominously named Widowmaker's Cave, or play golf on renowned courses such as the Half Moon and Tryall. Away from the beaten path, you can feed hummingbirds at the Rocklands Bird Sanctuary and visit the house Rose Hall Great House, a former sugar plantation with a spooky past. At dusk, enjoy a feast of Jamaican chicken, and dance to reggae music on Gloucester Avenue, also known as the Fashion Walk. Lucea 45 km northeast of Negril is Lucea (6100 Ew.) It's pronounced as"Luzi". The center, with a large market, runs along a deep bay. The court building dates from the 19th century, The large clock tower arrived there by mistake, since was intented to be a gift from the German Emperor (or a large landowner in Germany) to the Caribbean island of St. Lucia. It was delivered to Lucea by an oversight, where it still remains.
GRAND PALLADIUM JAMAICA COMPLEX
The Grand Palladium all-inclusive complex is in the fabulous location of Montego Bay on the edge of a magnificent beach and just 30 minutes from the airport. The luxury suites and facilities make the Grand Palladium five-star all-inclusive complex in Jamaica the perfect choice for an experience to remember. All guests at the Grand Palladium Jamaica Resort & Spa and Grand Palladium Lady Hamilton Resort & Spa can use the facilities and services in the complex, consisting of 7 themed restaurants, 3 buffet restaurants, 13 bars, 5 swimming pools, 1 Spa&Wellness centre, 1 gym, sports facilities, event rooms, Mini Club and all Palladium services.
GRAND PALLADIUM JAMAICA
Grand Palladium Jamaica Resort & Spa is one of the two hotels in the Grand Palladium five-star complex in Jamaica.  There are 449 junior suites, 88 suites and Jamaica's largest swimming pool. The views offered at this location are stunning. Make sure to take in a spectacular sunset while visiting.
Renovations complerw
GRAND PALLADIUM LADY HAMILTON
Grand Palladium Lady Hamilton Resort & Spa harmonises perfectly with nature to make your stay into something different; there are 390 junior suites, 78 suites and 48 villas suites with wonderful ocean views.
THE SERVICES & FACILITIES
Free basic Wi-Fi access throughout the entire complex after registering in Palladium Hotel Group's network.
Premium Wi-Fi access available at extra cost.
7 a la carte restaurants with a wide variety of cuisine
3 buffet restaurants
16 bars distributed throughout the complex
Room Service between 11 am and 11 pm.
First class Spa & Wellness Center
Charming beachside restaurant specializing in seafood
Slot machines
Shopping Center
A new Kid's Splash pool with a water park.: A wonderful addition for the little ones. They can discover the thrill of the kid's splash pool. They can frolic and have fun in this wonderful location all day.
Entertainment: Daily activities: aerobics, water gymnastics, table tennis, basketball, beach volleyball, soccer, tennis, petanque, water polo, darts, participation games, miniature golf (9 holes), archery.
Sports Installations: 3 tennis courts, 2 volley beach courts, 1 basketball court, 1 pro-soccer field (artificial turf) and 1 nine hole mini-golf facility.
Sports Activities : At the Grand Palladium Jamaica our guests are offered the following sports activities without charge: aerobics, aquatic gymnastics, ping pong, basketball, beach volley , football, tennis, Petanque, water polo, darts, archery, nine hole mini-golf and group games. .
Water- sports activities: ALL INCLUSIVE: Hobbie-cat, Kayak, Snorkeling, Pedal boat and Windsurfing.
EXTRA CHARGES: excursions, scuba diving courses, windsurfing lessons, sailing lessons, glass bottom boat.
There are  daily snorkel excursions to a nearby reef, available for a fee per person. Lifeguards say the snorkeling right off the beach here is good, so you may want to give that a try before booking the boat trip. ( bring water shoes) Another water sports tip : they'll charge you for a lesson aboard the hobie cat sailboats if you tell them you don't know how to sail, but if you just need a refresher course, it's smooth sailing, free of charge. ( keep in mind, safety first !!)
Entertainment: Daily activities on the beach and swimming pool, as well as different shows during the night at the theatre; live music at the main bar during the night; piano concert 3 times a week at the Premium Bar; shows for children at the theatre; children's discotheque. The resort discotheque "Boogie Woogie" is available to adults, between 11pm and 2am on a daily basis.
Baby Club (1-3 years old)
Babysitting service – Available at an additional charge ($)
Mini-Club (4-12 years old)
Located next to the main pool at the hotel.
 Supervised kids activity program during your stay.
 Indoor and outdoor play areas.
Children's splash pool with water slides.
 Arts and craft room, video games with projector,
The club features delightful animated characters from the "Play at Palladium with Raggs" program who will sing, dance, and entertain the kids throughout the resort.
 Kids can also have breakfast with the Raggs gang.
Mini-disco during the evening to party with your new friends.
 Open from 9 a.m. -11 p.m.
Black & White Junior Club (13-19 years old)
 Located on the ground floor at Grand Palladium Lady Hamilton.
 Exclusive club designed to give teenagers an opportunity to connect with new friends from around the world.
Teens can immerse themselves in a selection of movie titles.
 Teens will enjoy endless video games and complimentary Wi-Fi access.
 Fun at the disco to get them moving and meeting new people.
 Open from 11 a.m.-12 midnight.
For more detailed information & pictures please refer to our Palladium Kids page.
THE POOLS
Swimming Pools: Six fresh water swimming pools. A huge swimming pool with 4 integrated Jacuzzis and swim up bar; one private swimming pool for kids, a New Kiddies Splash water park, an adult swimming pool with 1 Jacuzzi (open until midnight), One quiet pool in the Grand Palladium Jamaica with one integrated Jacuzzi and bar service, and the Spa pool with a lazy river.  Towels and sun beds are available at the pools/beach free of charge.  Towel cards are also required for gold bracelet guests.
Main Pool – Family – Hours 10:00am-06:00pm
 Depth 1.55m
Four built in jacuzzis
Swim up bar
Surface area of 4.500m2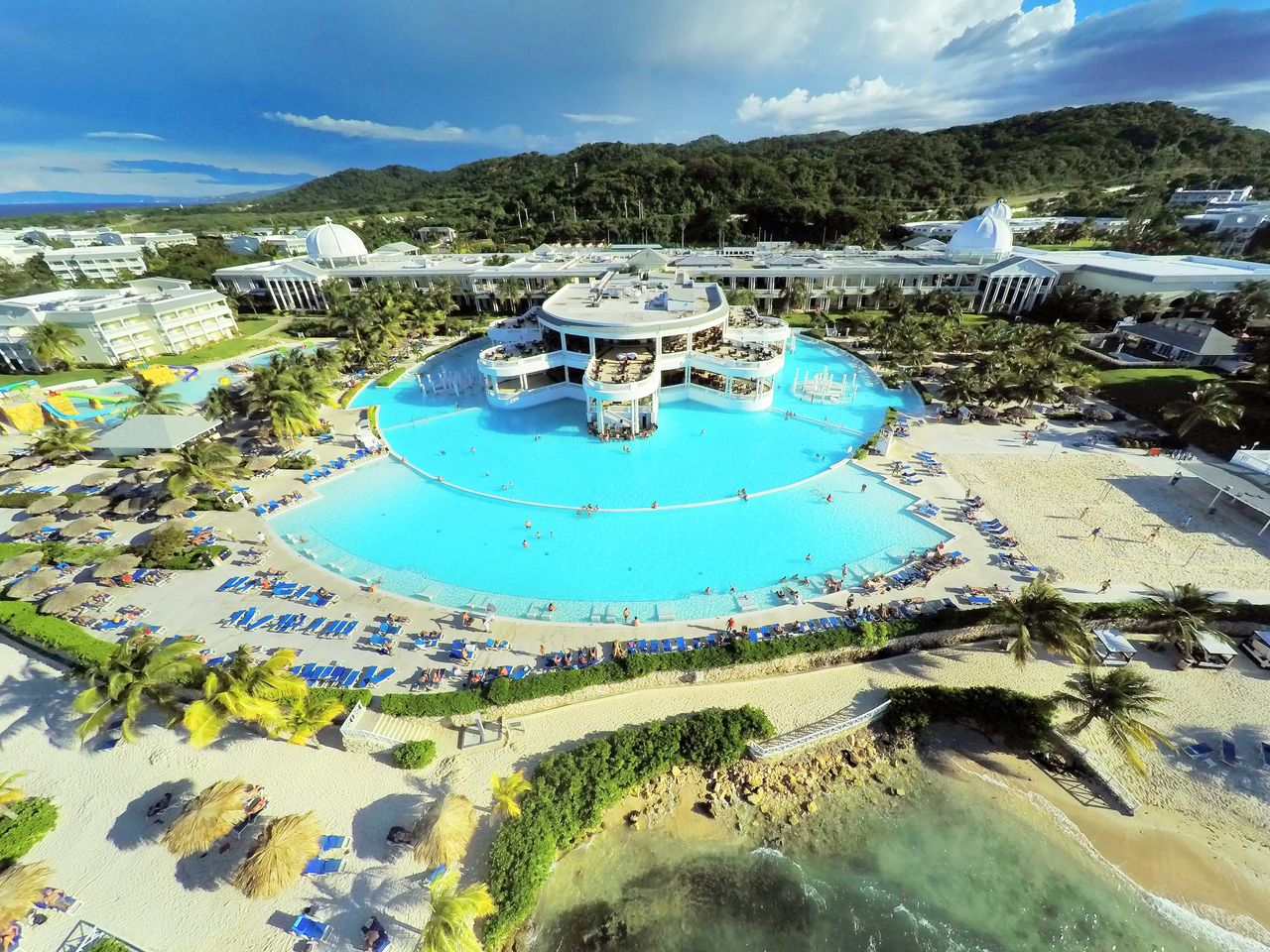 Roselle – Family – Hours 10:00am-06:00pm
Location GP Jamaica
 Depth 1.55m
Tranquil Pool
Spa – Adults – Hours 10:00am-08:00pm
 Depth 1.45m –
Location Gp Lady Hamilton
Lazy river
Built in jacuzzis
Aquatic Park –  Children – Hours  10:00am-06:00pm –
Depth 0.4m
 Location Gp Jamaica
Coral Pool – Adults – Hours 10:00am-00:00pm
 Location Gp Lady Hamilton
Built in jacuzzi
Surface area of 500m2
Maximum depth 1,55m
Open until midnight
The Coral Pool is an adults-only oasis removed from the resort's main areas, and perfect for when you really need to get away…
THE BEACHES
Sunset Cove is the resort's beautiful, family friendly beach. You'll find calm, clear waters in a protected cove with plenty shaded areas. There is a bar and restaurant located near the beach so you can keep everyone satisfied. Don't forget to try the jerk chicken served every day at lunch. There could hardly be a more idyllic spot to spend the day beach bumming with your kids. There's also a water sports area to check out kayaks, paddle boats and hobie cats. . Snorkeling equipment is also free, you may be required to leave a small deposit that will be returned to you when you bring back the equipment.
Grand Palladium in Jamaica has three other beaches. If you're looking for a more energetic vibe, head over to Las Brisas Beach or Gully Beach. Located next to the spectacular main pool, the volleyball courts and a popular bar. Throughout the day, the activities staff holds dance classes and fun games in near the Las Brisas Bar.
The Wet Zones
 $ 35 USD per person per day for access to the hydrotherapy facilities wet areas of Zentropia Spa and Wellness.
 Clients that purchase a spa treatment and VIP guests will not have to pay the  access fee on that day of treatment. The use of the gym and exercise rooms will remain free of charge for all registered hotel guests. Guests must be 18 and older.
For more information on other services offered please refer to the Zentropia Spa website.
WEDDINGS
For more information about you dream wedding, please visit www.palladiumweddings.com
WEBCAMS
Reservation/Room Request Information
Here are email contacts for resort reservation information. Per management, please email only one address one week or less prior to leaving for the resort.  It is suggested requesting a building and then put the remainder of your requests in order of priority, i.e. king bed, floor, etc
Travel Club Members cc
Only send requests to 1 address and remember to allow 72 hours for response.
For more information please refer to our "Make a Room Request" page.
THE APP
If you have any questions about your upcoming trip please visit the FORUM. We are more than happy to answer any questions and help with your vacation planning.