FOOD & BEVERAGE
The Grand Palladium Jamaica complex has 10 restaurants (7 à la carte) for you dining pleasure. This includes all meals at the resort's restaurants according to the schedules and conditions of each facility; snacks 24 hours, unrestricted use of the a la carte restaurants which do not require booking (subject to availability), no limit on number of visits. "Beeper" available, long pants and sleeved shirt are requested of men (dress shorts allowed), domestic drinks 24 hours, a selection of international drinks in some bars and welcome drink also included.
Weather you are a couple, a group or a family the Grand Palladium Jamaica / Lady Hamilton has something for everyone. If you or someone you are travelling with has any food allergies or special requirements your needs will be looked after. You can learn more about the Grand Palladium's food allergy program in this short article and by watching this very informative video all about the program and the resorts accessibility.  The Palladium Dietary Card program that will cater to guests with the following food allergens:
Accessing the special menus is as simple as :
1  Contact the Front Desk or Guest Services to let them know about your allergies/food intolerances.
2  You'll be given a card that clearly indicates your allergies/food intolerances.
3  Show this card at the resort restaurants, and the maître d'hôtel, executive chef or food and beverage manager will assist you.
THE DRESS CODE
Dress Code Guidelines – Jamaica
Prepared by Anne & Brenda, Managers,Unofficial Palladium.
We hope you will find this useful when trying to decide what to pack/wear if in doubt. While everyone will have their own thoughts on this, good common sense will go a long way.
Enjoy your vacation !
Breakfast
Breakfast is usually eaten at a buffet. Please wear shorts & T shirt, or many wear a bathing suit with a coverup.  Foot wear required.
Lunch
Beach bars: Bathing suits OK. Please wear ftip flops or sandals.
Restaurants located near main pools such as The Blue Lagoon : Bathing suits with cover ups OK.Men please wear a T shirt.All need foot wear.
Indoor Lunch Buffets such as Mobay and Negril   : DRY bathing suit with coverup. No tank tops for men. Foot wear.
Dinner
Buffets: For men & women: shorts & t shirts OK Footwear. No tank tops. No running shorts or beach wear.
A la Cartes: There is a dress code for men. Not for women which is unfortunate as many young women overlook any code of decorum by wearing very short, torn denim shorts etc. Most of us enjoy dressing up a bit in a sundress or nice capris. Men please do not wear cargo shorts.
Dress Code (official)
A la Carte's : formal pants, long or short and shirts with sleeves.
Dress code for buffets : casual attire, must not be wet.
Foot wear is required at all dining facilities including the Pool side restaurants.
THE BUFFETS
It is prohibited to serve alcoholic drinks to minors less than 18 years of age.
Schedules of bars and restaurants are subject to change according to the season.
Mo'Bay : Located in Grand Palladium Jamaica Resort & Spa Italian corner, it features show cooking and air conditioning.
Negril: Located in Grand Palladium Lady Hamilton Resort & Spa with an Italian corner, show cooking and air conditioning.
The Blue Lagoon : A beautiful outdoor restaurant with fabulous views over the main pool. It has an Italian corner and show cooking.
THE A LA CARTES
** Please note that Some restaurants are being rebranded . For more info please see the link provided below**
Bhogali: Located in the Grand Palladium Jamaica Resort & Spa in front of the main pool, it offers a la carte Indian cuisine specialties for dinner. Bhogali menu
La Adelita: Located on the second floor, this restaurant features a la carte dining and scrumptious Mexican cuisine. TEMP MENU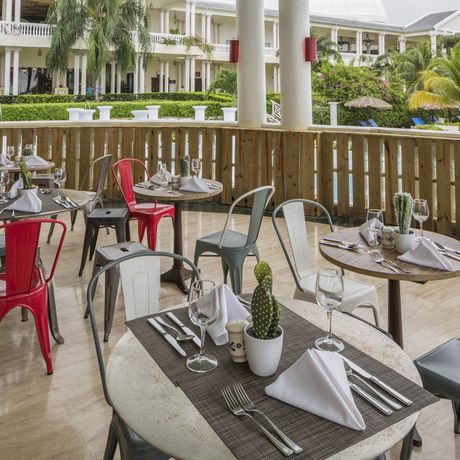 Chez Bubba's Is now El Dorado: Located on the second floor, it offers a la carte service with grilled specialties (Steak House ).  Air conditioning. El Dorado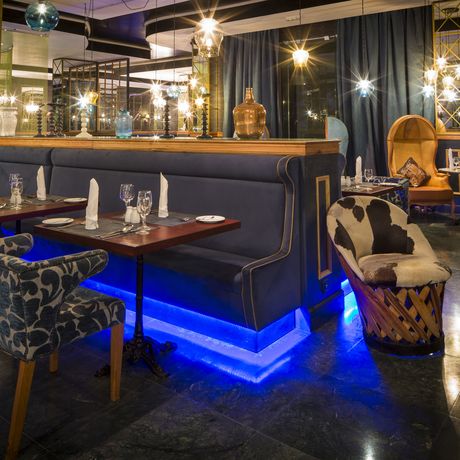 Portofino: Located in Grand Palladium Lady Hamilton Resort & Spa opposite the main pool. An Italian trattoria boasting excellent cuisines and a la carte service. TEMP MENU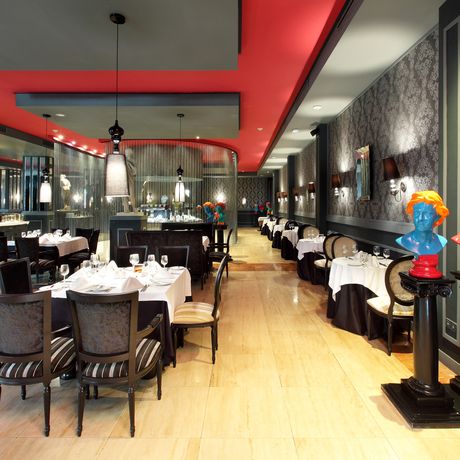 Lotus House now Sumptouri: Located on the second floor, the restaurant features a la carte dining and oriental specialties. Air conditioning. Sumptuori Menu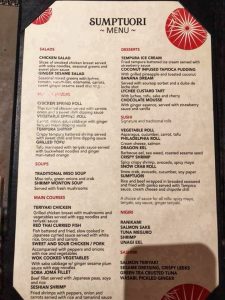 Sumptuori Temp Menu by Anne-Marie Blake Ryan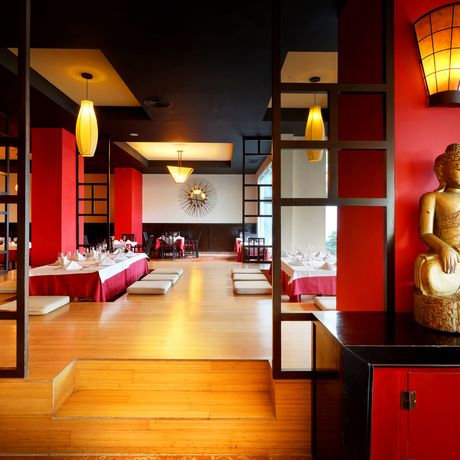 Xaymaica Creole: Located on the first floor. Boasting regional cuisine with a la carte dining service. Air conditioning. Xaymaica menu
Poseidon's Sunset Cove" BBQ Restaurant:Located on the beach. It serves as a snack restaurant by day and offers rice and seafood at night. Poseidon Menu
 A la Carte Breakfast
The Kids Menu is available at all A la Carte restaurants.
Photo courtesy Marilyn Murray
Lobster is available for an additional charge.
Photo courtesy Marilyn Murray
THE FUN STUFF
Jerk Chicken : One of the resorts best kept secrets, or maybe not. This is one lunch you won't want to miss. You will find it at the "Jerk Hut" , located on Sunset Cove. It is first come first served daily starting at 12 pm. You can find a video recipe for this traditional Jamaican dish on our recipe page.
Romantic Dinner : Making arrangements for the romantic / moonlight dinner requires the booking to be made with 48 hours  prior  to the actual dinner with guests. Please inquire with guest services for pricing and arrangments; advance booking is available.  The locations you may choose from are Sunset Cove beach or Las Brisas beach. Guest Services Email
Breakfast with RAGGS  for the young ones in your group is held on Wednesday mornings at 9:00 AM, reservations are required. Book your seat with guest services.
Reggea n Burger at Las Brisas Beach from 12 to 2 pm on Thursday's
Chocolate Delights can be enjoyed every Wednesday at Miss Lou Bar at 6pm.
Kokus : don't miss out on trying this beautiful desert when you come across it. A tasty iced coconut treat with a variety of toppings.
ROOM SERVICE
Grand Palladium Jamaica and Lady Hamilton offer the highest quality room service included in your stay. Enjoy the intimacy, comfort and exclusivity of our extensive selection, between 11 am and 11 pm. The room service includes starters, main dishes and desserts for all tastes. Salads, sandwiches and wraps are a great option as starters or for a lighter bite. Quesadillas, hamburgers, pizza and pasta are some of our main dishes. Give in to your sweet tooth with desserts such as fruit, brownies or crème caramel. Palladium Premium provides a final elegant touch with gourmet recommendations, wines and cigars at an additional charge. Feel free, it's included !
Room Service Menu (Both resorts, all rooms )
Even the youngest travelers can enjoy an in room treat.
THE BARS
What's your favorite drink ?
Infinity Lobby Bar:  The Infinity Bar, a perfect place to watch the sunset, relax after a pool day and share drinks with your people, while you enjoy live entertainment almost every evening. Hours: 10:00am to 00:30am
Bar "Theater" (Lady Hamilton) Hours: 09.00 a.m. to 10:30 p.m.
Las Brisas Bar Hours: 10:00am to 06:00pm
The Blue Lagoon Swim-Up Bar Hours: 10:00am to 06:00pm
Coral Bar: Only adults at Lady Hamilton swimming pool: Hours: 10:00am to 10:00 p.m.
Roselle Bar. At the swimming pool: Hours: 10:00am to 5.00pm
Sunset Cove Bar: Snack & Drinks: Hours: 10:00am to 11:00pm Sunset Cove Snack Bar Menu
Who said the fun has to stop after the sun goes down? Join the White Party every Monday at The Sunset Cove Beach.
 The Beer Hut : Located on Guilly Beach; a small beach located at the end of the path between villas 11 and 12 on the Jamaica side of the resort. If you would like a coconut drink, this is the place. They tend to run out so go early.
Las Vegas Bar. Located at the Lady Hamilton Lobby: Hours: 6:00 pm to 2:00 am
Miss Lou Bar:  Reading lounge and card tables. International drinks "Premium" No smoking. A / C Enjoy one of the Special Coffees available. Pastries and Snacks Menu
Chocolate makes everything better! Assorted chocolate delicatessens at the Miss Lous Bar!
Xtra Time Sport Bar: An Atmosphere where fun meets delectable delights. Just the place you will always want to be. This is our 22 hours snack bar from 9 am to 7am. With snacks and evening service / no alcoholic beverages other than beer from 11:00pm to 8:00am  Xtra Time Sports Bar menu
Woogie Boogie Disco Bar: A/C Adults Only Hours: 11:00pm to 2:00am
Under 18 years old. Hours: 09:00pm a 10:30pm
There are also 2 extra bars in the  a la carte restaurants
Note : Alcoholic beverages will not be served to minors under 18 years old.
Jamaica/LH Alcohol (Those listed in red are considered premium and available at Miss Lou Bar)